A lot of times I will read magazines that will give you a list of the latest drugstore makeup products…but let's get real. The magazines get $$$ from those brands to pitch their products to the public…and they only usually feature newer products that haven't REALLY been tested by folks who are unpaid for their reviews.
The following products have been vetted EXTENSIVELY by my face as well as by my wallet. Below I'll explain exactly why each product is amazing and give you a little insight into why I picked that product over a more prestige brand. You can find all of these products at your local CVS (or RiteAid or Walgreens or Target or wherever… I'm just partial to CVS because I LOVE their beauty club and rewards system) and none are going to break your budget. If you're looking for a place to start with makeup this is perfect for you. Also, CVS and several other retailers will let you return your makeup if you don't like it. Score! I recommend using coupons from your local paper, online at coupons.com and from whatever retailer you're using to make these guys even cheaper! Happy beauty bargain shopping!
*THIS POST IS NOT ENDORSED AT ALL BY ANYONE…just by yours truly*
Face:
Foundation: L'Oreal Paris True Match Foundation
I know this has many other iterations now, but the normal liquid one is my favorite. First of all, it has really nice coverage that is full without being too matte. Second of all it has sunscreen in it. Third of all it has a lot of colors that you can't really get in other brands. I love that they have a fair-warm option because SO often it's hard to find foundation for fair skin (like mine) that is not weirdly pink. I've also heard good things about this foundation having a full range for women of color (because honestly, makeup companies are notoriously bad about doing that! Which is a WHOLE other story.) Plus you can unusually find this stuff for about $10 *or less when you're about that coupon life*
 I think all of the newer ones have SPF so not sure why the first one shown here doesn't have that listed. But yah.
Powder: Elf (Eyes Lips Face) HD Setting Powder in Translucent 
I have both the loose powder and the compact of this powder on stock. This stuff is GREAT. You don't always want to add a lot of color onto your face on top of whatever you use like bronzer, blush, foundation, highlighter, etc. This stuff sets makeup perfectly, is really blendable, and IMHO is great for covering gnarly zits. Plus it's $6.
*Lolllll how funny does it look coming out of the compact like this. I SWEAR this is just face powder!
Brushes: Eco Tool Brush Sets
These beautiful brushes are the best I've EVER seen. They're better than fancy $50 brushes and they're softer than them too. I've had my brush set for LEGIT $10 years and it's still going strong, even with frequent washings. I have them in big (great word) version, as well as the travel sizes. The "concealer" brush is really good for doing eyeshadow, by the way and the angled blush brush is perfect for contouring ( I use the fluffy brush for blush). Also, they're made out of recycled materials and they're SO cheap. You'll be so happy when you put these on your face.
Concealer: NYX Gotcha Covered Waterproof Concealer
Truth be told, I got this stuff from the NYX store in my mall…but several drugstores carry this brand, so it shouldn't be too hard to find. This stuff is magic if you like to actually move at all during the day or have to commute to work via any means other than a car. This concealer is THICK..if you're not really looking for coverage, this might not be good. But for days when I want to look #FLAWLESS I whip this bad boy out. Stays on all day when "set" or "baked" with some ELF powder (realizing now that sounds ridiculous…I'm refreshing the earlier mentioned HD powder not a magic dust produced by elves). It's also about $6 give or take.
*I really prefer the French translation: "Courvrance TOTALE, HYDROFUGE!"
Blush: Milani Baked Blush
This stuff is often cited in dupes for products such as Nars…while I don't really think that this is a great dupe for Nars "Orgasm" I do think it's a beautiful color. These blushes work ESPECIALLY well for those with olive and deep tones. Plus they are pretty AF in the packaging!
**** You'll notice I don't have a bronzer on here…that's because I honestly haven't found a GREAT one at a drugstore and swear by my Tarte bronzer above all. However, Physicans Formula makes the best one I've found. It has a little sun on it. Also recall, I'm hecka pale so …bronzers can be a little tricky for me. If you're a little more naturally tan, you might have an easier time finding a bronzer that will match your skin tone better.*****
Lips:
Lipstick: L'Oreal Paris Infallible Pro-Last Lip Color
Permanent blush…definitely great for every day! It's a light pink with goldish flecks…would probably work with most skin tones. These usually run about $10-$13
Mesmerizing Merlot – a great berry for fall!  Definitely can't tell here but it's in between a red and true berry.
Eyes:
Eye shadow: Wet and Wild Trio/Pallets 
Yep. Wet and Wild is on here. You cannot believe how many people I have turned onto this suede eye shadow. This stuff is amazing. Use a nice little eye shadow primer and you have a shadow that rivals SO many pricier products. The purple in the first palette is flattering on a variety of skin tones and is shimmery without being glittery. The second palette is great if you want more of a golden color. Love these guys.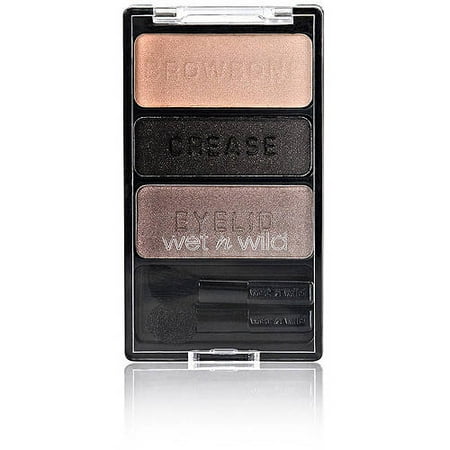 This little guy is just $3 and this purple color is life changing!
This new palette is just $7 and definitely rivals the new Urban Decay palettes! Score!
Eyeliner: NYX Waterproof Eyeliner, Rimmel Waterproof Eyeliner
The NYX version is a great dupe for my Stila waterproof eyeliner, and actually I prefer this one better now (also it's about a quarter of the price!) NYX has a variety of colors in this line of eyeliners and there are tons of colors and neutrals to try. The Rimmel is pretty good, not as good as the NYX, but definitely a good buy.
The NYX version is under $5
The Rimmel version is under $6.
Browliner: L'Oreal Brow Stylist Definier
Got this brow liner as a replacement for my Anastasia Beverly hills brow liner with the little spooly. I love how thin this brow pencil is and how well it blends in. Definitely a great dupe for Anastasia BH. Score! This comes in both brunette and blonde for about $9 give or take.
Nails: 
Nail polish: Revlon Gel Envy Nail Color/Revlon Diamond Shine Gel Envy Top Coat
All of the colors in this line are really great. From dusty colors to brights and neutrals they're all awesome, long wear and sooo shiny. They are in fact, so shiny that even MEN have commented on them. The top coat basically makes any polish you're wearing into shiny gel goodness. This is better than getting a regular manicure…but probably not as long wear as a cured gel mani you'd get in a salon. Each is about $6.
What are your favorite drugstore finds?  Have you used any of these products listed here? Do you need any recommendations for budget makeup? What other great dupes have you found? Let me know in the comments below what you think!